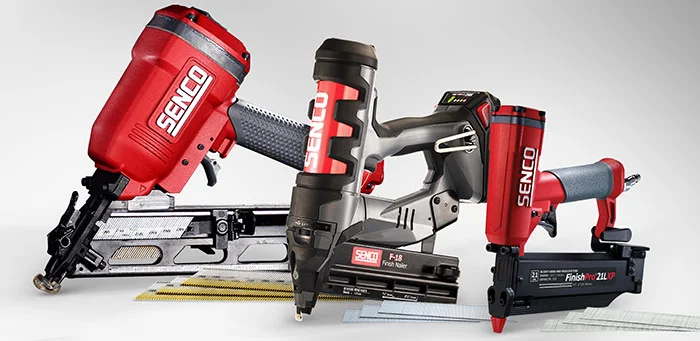 Pneumatic nailers are lightweight, efficient and drive fasteners with a great deal of ease and precision, making them ideal for a variety of applications. With a wide variety of options to choose from, picking the best tool and fastener combination can seem like a complicated task.
To remove the guesswork, here are a few general guidelines to follow and distinctions to consider when choosing a fastening system.
Each nailer and fastener size has its benefits and is best suited for certain jobs. For typical indoor applications, ranking smallest to largest gauge, here are some of the advantages:
23-gauge – For small painted or stained moldings (typically used to hold materials together while adhesive sets or cures)
21-gauge – For small painted or stained moldings and medium to small casings or chair rail (provides similar appearance to 23 gauge with 80% holding power of an 18 gauge)
18-gauge – For medium to small casings, chair rail or low-profile crown molding
16-gauge – For the outer nail on casing (through drywall) and for base trim or other large trim
15-gauge – For the outer nail on casing (through drywall) and for base trim or other large trim , and sturdy install of door jambs, particularly heavy, solid-core doors.
Non-structural interior applications such as crown molding, door casings or chair rail offer the most choice in the tools and fasteners you use. For structural fastening such as framing, sheathing or metal plate connecting, most fastening systems are dictated by code or architectural specifications. Alternately, the substrate manufacturer may designate specific fasteners for use with their product.
Sometimes, plans will call for a 6d nail where the "d" is a denotation for pennyweight. This is a long holdover from a time when nails were sold in quantities of 100 for each size of a nail. Today, the "d" refers to the length of the fastener.
Nail Size
Length
in.
mm.
2d
1.00
25.4
3d
1.25
31.7
4d
1.50
38.1
5d
1.75
44.4
6d
2.00
50.8
7d
2.25
57.1
8d
2.50
63.5
9d
2.75
69.8
10d
3.00
76.2
12d
3.25
82.5
16d
3.50
88.9
20d
4.00
101.6
30d
4.50
114.3
There are other times when plans will call for a 6d Common nail. This is an extra degree of exactness that includes the diameter of the shank of the nail as opposed to a standard box nail.
The main difference between common nails and box nails is the gauge of the wire used to form the shank. Common nails are made with a heavier-gauge wire, typically about 5/32" thick. They're generally used in house framing, where strength is important. Box nails have thinner-gauge shanks—about 1/16" which are best for fastening nonstructural things like trim, shingles, and siding. These thinner gauges are also less likely to split the wood.
Plans may also call for a specific gauge, or diameter. The higher the number, the thinner the nail; the lower the number, the thicker the nail.
| | |
| --- | --- |
| Gauge | Common |
| | in. |
| 3 |  0.26 |
| 4 | 0.24 |
| 6 | 0.20 |
| 8 | 0.17 |
| 9 | 0.15 |
| 10 | 0.13 |
| 11 | 0.12 |
| 12 | 0.11 |
| 13 | 0.09 |
| 14 | 0.08 |
| 15 | 0.07 |
| 16 | 0.06 |
| 18 | 0.05 |
| 23 | 0.03 |
SENCO offers the following fasteners:
15-gauge – .072" diameter
Length – 1" – 2-1/2"
Collation – 34-degree angled taped strip
Finish – Bright, Galvanized, Hardened Galvanized, 304 Stainless Steel
Coating – Sencote, Plain
Head – Brad
Point – Chisel, Diamond
16-gauge – .063"
Length – 1-1/4" – 2-1/2"
Collation – 20-degree angled glued strip
Finish – Galvanized
Coating – Plain
Head – T-Head
Point – Chisel
16-gauge – .063"
Length – 3/4" – 2-1/2"
Collation – Straight glued strip
Finish – Galvanized, 304 Stainless Steel
Coating – Plain
Head – T-Head
Point – Chisel
18 – Gauge – .0468" diameter
Length – 5/8" – 2-1/8"
Collation – Straight glued strip
Finish – Galvanized, 304 Stainless Steel
Coating – Plain
Head – Medium, Slight, Headless
Point – Chisel
21 – Gauge – .0294" diameter
Length – 5/8" – 2"
Collation – Straight glued strip
Finish – Galvanized
Coating – Plain
Head – Medium
Point – Chisel
23 – Gauge – .0267" diameter
Length – 1/2" – 2"
Collation – Straight glued strip
Finish – Galvanized
Coating – Plain
Head – Headless
Point – Chisel